Product details of CHOETECH 10W Fast Wireless Charger, Qi-Certified Wireless Charging Stand
【Qi Fast and Standard Charging】CHOETECH fast wireless charging stand adopts rapid charging technology up to 7.5W for iPhone iPhone/XS/X /XS Max/XR/8/8 Plus; 10W for Samsung Galaxy Note 9/S9/S9+/S8/S8+/Note 8/S7/S6 Edge Plus/Note 5, and 5W Standard charging for other Qi-enabled devices.
【Charging with Protective Case】Even with a protective case, it can be charged normally as long as your phone case is no thicker than 5mm. Note: Metal attachments or credit cards will interfere with charging, meanwhile magnetic field induced can damage them.
【Soft Intelligent LED Indicator 】The Small soft green LED indicates the charging status and does not produce annoying lights. For Samsung wireless phones: The LED will go out after full charging, while the iPhone: LED will keep on due to the iPhone fails to send charging completion signal.
【Dual-coil Charger】Built-in dual coils and provides more charging area so you can charge your phone horizontally and stand. It is not only a wireless charger, but also a phone holder stand, providing you with more flexible choice for reading, listening to music, watching a video or playing games.
【Safe Protection】 Eliminate safety concerns through over voltage protection, temperature control, foreign object detection, and more, to provide you with a safe and stable charging environment to ensure mobile phone charging safety.
Product descriptionColor Name:
Black-T524
CHOETECH Fast Wireless Charger juices up your Qi-compatible device 1.4 times faster than standard wireless charging pad.Fast wireless charging feature only available for select models supported fast wireless charging technologyUniversal compatible with all Qi-enabled devices in different charging speed including 10W charging speed ,7.5W iPhone charging speed, 5W for all standard charge.7.5W Fast Charge Models:-iPhone Xs/ iPhone XS Max/ iPhone XR-iPhone X/ iPhone 8/ iPhone 8 Plus10W Fast Charge Models:-Samsung Galaxy Note 9/ S9/ S9 Plus -Samsung Galaxy S8/ S8plus/ Note 8 -Samsung Galaxy S7/ S7 edge/ S6 edge plus/ Note 5 5W Standard Charging Models:-HUAWEI Mate 20 Pro/ RS-Samsung Galaxy S6/ S6 edge -and other Qi enabled devicesReminder:1. A Quick Charge 2.0 or 3.0 wall-charger (not included) is required for fast wireless charging.2. Phone case should be take off for better charging. No Metal Ring/Plate/Credit Card.3. It would not fast charge if it is be charged with Samsung S9 S9 Plus OEM AC adapter.From the manufacturer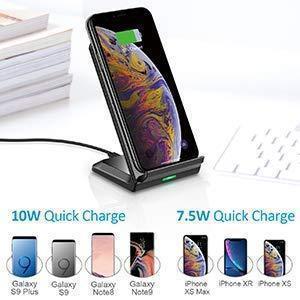 High-efficiency Charging and Universal Compatibility7.5W Fast Charging Compatible with:- iPhone XS, iPhone XS Max, iPhone XR.- iPhone X, iPhone 8, iPhone 8 Plus.10W Fast Wireless Charging Stand for:- Samsung Galaxy Note 8 / S8 / S8 Plus / S7 / S7 Edge / S6 Edge+ / Note 5.5W Standand Wireless Charging:- Samsung Galaxy S6/S6 Edge.- Nexus 7 2nd Gen/Nexus 4/ Nexus 5/ Nexus 6.- Nokia 8/ Nokia Lumia 950xl/950/920/1020/928.- HTC 8X (not UK version) / HTC Droid DNA / Rzound.Warm tipsQC 2.0 /3.0 adapter be required for Fast Wireless Charging.To keep high charging efficiency, please remove any protective case during charging.The package does not include wall adapter and wireless charging receiver.Apple iPhones: LED indicator stays lighting when full charged, please take the phone off.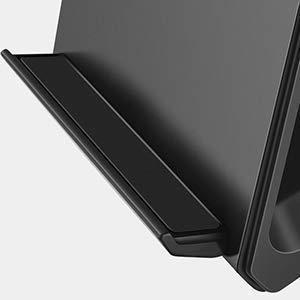 Non-Slip RubberizedNon slip ledge and bottom rubber mat keep your phone stay in place. Keeps your phone from falling off the fast charging stand.




More Features for Fast Wireless Charging Stand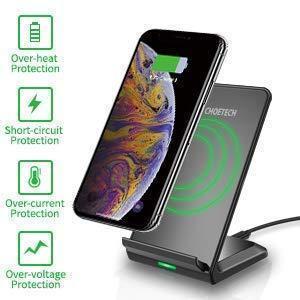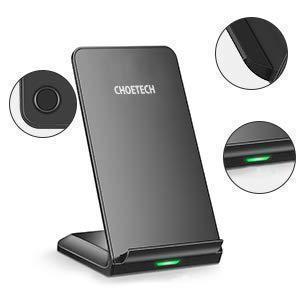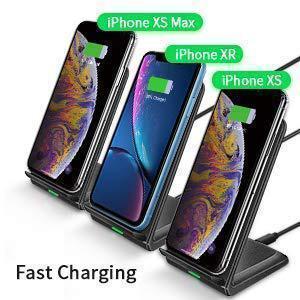 All Round Protection for Safe ChargingEquipped with temperature protection, over-voltage protection, over-current protection, short circuit protection and other multiple safety protection for safe charging during the entire charging process.Sleep Friendly and Stable ChargingAnti-slip mats and soft silicone antiskid for stable charging, Built-in green soft light makes no distraction on sleeping.Fast Wireless Charger for New iPhoneThe wireless charger is specially designed to fast charge iPhone XR, iPhone XS, iPhone XS Max, iPhone X, iPhone 8, iPhone 8 Plus at 7.5W output.